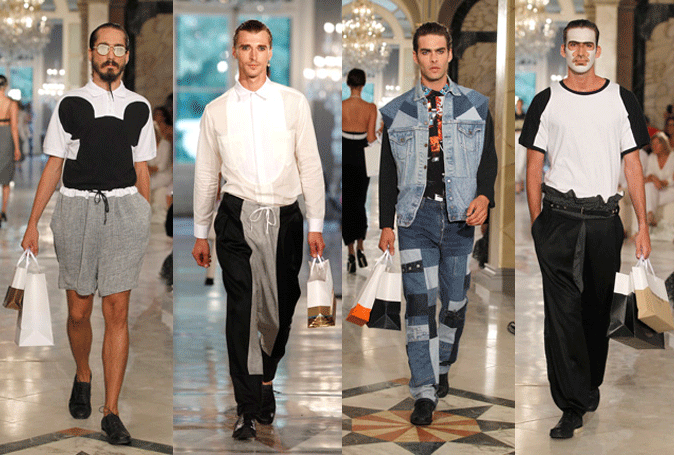 August 14th, 2012 | Published in Fashion
Somos sus fans desde hace dos temporadas, cuando les conocimos presentando su colección SS12 , Brain & Beast simplemente nos ha enamorado.
Urbanos, sin pretensiones, atrevidos y sobre todo contemporáneos, este trío creativo conformado por Angel Vilda, César Olivar y Verónica Raposo es la nueva sensación del ready to wear catalán, y es que han dado en el clavo con cada colección puliendo en desfile tras desfile su identidad de marca.
Afincados en Barcelona, tienen en sus colecciones prendas echas a medida para el público local que busca comodidad, diseño y sobre todo propuesta, ironía y provocación, esto último lo que más nos gusta de la Brain & Beast, siempre sin perder la elegancia.
Aún recordamos el vestido Guns and Roses del pasado desfile y la camiseta Iron Maiden de hace dos, en esta colección su apuesta por el denim es más evidente, su decisión por no dejar de presentar pantalones tejanos siempre dándoles un toque especial, es un acierto de la marca. El patchwork en los pantalones, chaquetas y la mezcla de denim con algodón y las camisas con macro bolsillos al frente o en la espalda serán un must de la primavera 2013 junto con el polo con la sombra negra de un ratón, somos videntes y es mejor que nos hagan caso en esto Rockets!
F: 080 BCN Fashion
T: Viktor Garcia
Rocket Magazine Barcelona