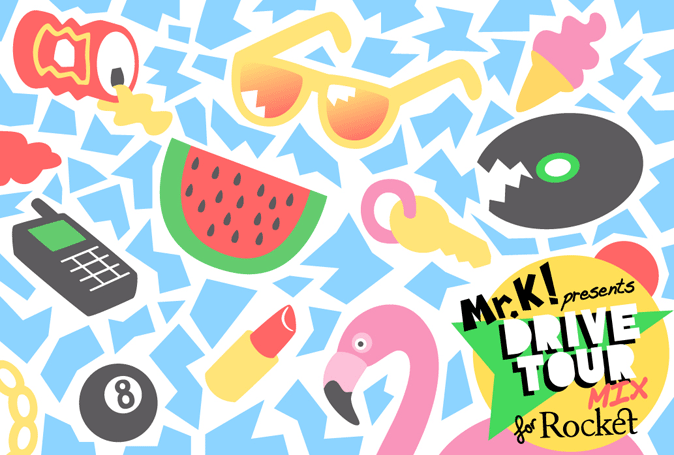 August 13th, 2012 | Published in Music | 3 Comments
Mr.K! presenta The Drive Tour Mix for Rocket Magazine un mixtape exclusivo Free to Download para que disfrutéis escuchándolo este caluroso mes de Agosto!
Mr.K! es amo y señor de los dancefloors de Barcelona, los mashups son su carta fuerte gracias a su buen gusto musical. En Rocket Magazine somos muy fans de él hace mucho tiempo, ya lo hemos entrevistado, le seguimos la pista muy de cerca y desde ahora se convierte en colaborador de nuestra sección de música y obviamente estamos muy contentos!
Su primer colaboración oficial es este mixtape que en exclusiva para Rocket Magazine que nos lleva por un viaje movidito y cañero en medio de este caluroso verano.
Thelma y Louise (1991)
"-¿Estás despierta?
-Supongo que sí, tengo los ojos abiertos
-Yo también. Me siento despierta. Muy despierta. Nunca me había sentido tan despierta. ¿Me comprendes? Todo parece distinto. ¿También tienes la sensación de que te espera algo nuevo?
-¡Beberemos margaritas junto al mar, mamacita!
Los viajes son un regalo, una sorpresa y más aún cuando tu destino es un lugar desconocido, tan desconocido como el fin de tus días. Conversaciones, paisajes, fotos… todo ello acompañado de una banda sonora. Abróchate el cinturón, aprieta el acelerador, dale al play y disfruta de las 12 canciones que deberías escuchar antes de que termine este verano. Róisín Murphy cantaría en tu funeral, que más se puede pedir? - OUH! GURL!"
TRACK LIST:
1 - Mr.k! - The Drive Tour Intro
2 - Moon Boots - Sugar
3 - Van She - Jamaica (Plastic Plates Remix)
4 - Lonsdale Boys Club - Light Me Up (Louis La Roche Remix)
5 - Sam Sparro - Happiness
6 - Montevideo - Horses (Zimmer Remix)
7 - The 2 Bears - Work (Franky Rizardo Remix)
8 - Evil Nine - Auto
9 - Modjo - Lady (Alexander Allure & S-Beat Syntheticsax Remix)
10 - The Ones feat. Nomi Ruiz - Lets Celebrate (Wawa Club Mix)
11 - Michael Jackson vs. Yuksek vs. The Noisy Freaks vs. Richard Cheese - Beat It Freaks!
12 - Icona Pop - I Love It
13 - Mr.k! - Finish?
Bonus Track:
14 - Luca C & Brigante feat. Róisín Murphy - Flashlight (Solomun Remix)
Rocket Magazine Soundcloud:
http://soundcloud.com/rocketmagazine
Mr.k!:
http://soundcloud.com/mkmrk
http://www.facebook.com/mkmrk
Bastardeejays (TvMnstr & Mr.k!):
http://soundcloud.com/bastardeejays
T: Intro: Viktor Garcia
TXT: Mr.K! y Chicletol
Artwork: Emo Díaz (http://www.emodiaz.com/)